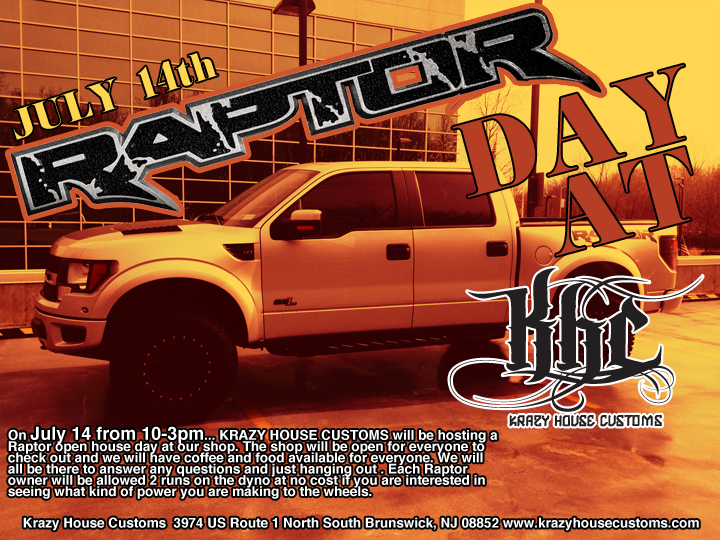 Hi Everyone,
On July 14 from 10-3 we KRAZY HOUSE CUSTOMS will be hosting a Raptor open house day at our shop. The shop will be open for everyone to check out and we will have coffee and food available for everyone. We will all be there to answer any questions and just hanging out ect.
– Each Raptor owner will be allowed 2 runs on the dyno at no cost if you are interested in seeing what kind of power you are making to the wheels.
– I may be doing some type of demomstration with either a perch mod or clunk fix. If there are any volunteers shout me a pm- this would be free of charge to that person.
– Additional discounts will be available for those who attend on orders/purchases made that day.
– We will have one tech working all day if anyone is interested in have work done that day.
– We will have Raptor specific products on hand so you can check them out in person.
Please come hang out with us that day and show of your Raptor. Even prospective Raptor owners are invited to attend and check out their future truck. We look forward to meeting all of our local owners and seeing our current customers that day. Please pm me if you can to let me know you are attending (if not no big deal)- just want to have enough food for everyone.
See you then.
KHC CREW